The Technical Review of the Anker PowerWave. Charge your device quickly, wirelessly, and in style with this wireless fast charger. The PowerWave looks great and functions even better!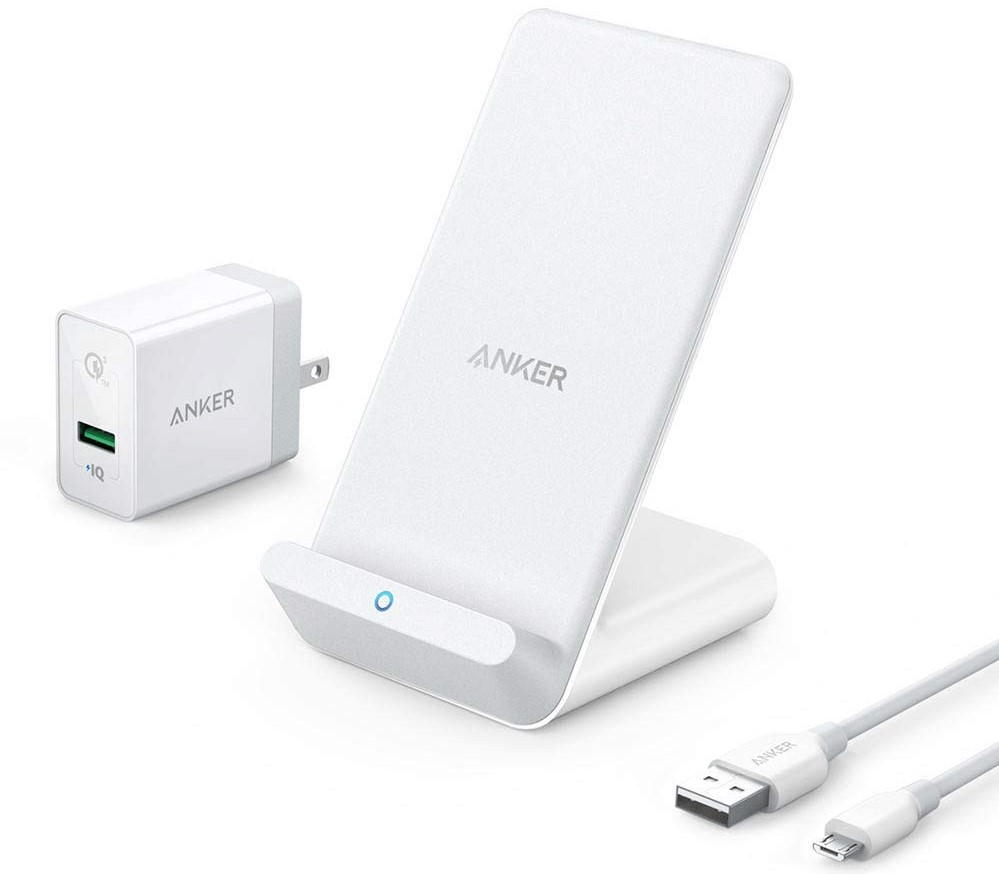 Wireless Charging
The Anker PowerWave charger provides one of the most convenient ways to charge by allowing you to set down your device and let the power flow naturally. The PowerWave's smart technology can determine the battery status of your device and administers the appropriate voltage to keep your phone safe. I find the most convenient time to charge my phone using this charger is at night so I can have the stand set up by my bedside. I can easily reach over to grab my phone, and I don't have to worry about trying to find a charging cable to remove. This device would be excellent to keep at work on your desk as it allows you to keep your phone screen visible and upright, or even on its side, while it charges. The PowerWave provides a non-slip surface, so your phone is safe and secure during charging. This charger sits at a 60-degree angle, which is perfect for a comfortable view of the screen as well as the iPhone's Face ID. With the Anker PowerWave, your phone is no longer useless while charging. You don't even have to worry about taking your phone case off since the PowerWave can deliver charging power through cases even up to 5mm thick. All of these fantastic qualities give you the chance to keep using your phone quickly and comfortably.
Anker offers a black and a white version of the PowerWave; both of which provide a sleek and clean look for wherever it may be displayed. The PowerWave includes an internal cooling fan that prevents the overheating of your device or the charger itself. The fan also keeps your device charging at high-speed with no slowdown, and it is nearly silent. The built-in cooling system claims to allow the latest iPhones to charge one hour faster than any other charger on the market. If you are looking for a wireless charger, this could be the one.
What you Get
So, what all do you get for $50? When you order this device, you receive the PowerWave 7.5 stand, along with a quick charge 3.0 AC adapter. The latest model of this product also comes with a PowerLine 6ft Micro USB cable. Yes, you read that right. You'll get 6 whole feet of cable. With your package, you'll also be given a welcome guide and a worry-free 18-month warranty! Anker also provides excellent and friendly customer service that you can contact with any questions or concerns you might have with the PowerWave.
The Anker PowerWave wireless charging stand is capable of satisfying your charging needs fast and for an affordable price! To learn more about additional wireless charging products from Anker click here.
Tech Specs
Qi-Certified
Includes Quick Charge Adapter
Internal Cooling Fan
Compatibility 7.5W: iPhone Xs Max/XR/XS/X/8/8 Plus
Compatibility 10W: Galaxy S9/S9+/S8
Colors: Black or White